LOS ANGELES PROPERTY MANAGEMENT
Why Choose AllView?
AllView Real Estate provides landlords and tenants the utmost value and service with an experienced 24hr leasing office, 24hr maintenance and emergency service center, month-to-month management agreements, 90-Day money back guarantee, a no eviction guarantee, no fee leasing, no fee inspections, and much more. As Southern California's Premier Property Management Company, our comprehensive Property Management services provide you the expertise and support you need as an owner to trust that your property and tenants are being taken care of.
Our team creates a tailor made property management plan for your property that works to get you the best quality tenants and improve the performance of your investment. Our years of experience have shown that a high quality is paramount to a high performing rental property as a tenant that pays on time and takes care of the property makes all the difference for the performance of a property. Let us do all the hard work for you so you can get back to doing what you love.
Our Professional Services
Discover how AllView can benefit you.
Determine Goals
Tailor made plans specific to you and your goals.
Tenant Placement
Quality tenants who will care for your property.
Rent Collection
Hassle free monthly rent collection.
Handling Repairs
24 hour on call emergency and maintenance services.
Move-In/Out Inspections
Extensive move-in and move-out inspections documenting every inch of your property.
Rent Ready
Quick and efficient turnovers to get your property back on the market.
Straightforward and Competitive pricing
No hidden fees, just exceptional management. Period.
No setup fee
---
No maintenance upcharges
---
Inspections included at no extra fee
---
No photoshoot fee
---
No price analysis fee
---
No advertising fee
---
No eviction guarantee
---
No move-in/out fee
---
No lease renewal fee
---
No setup fee
---
No maintenance upcharges
---
Inspections included at no extra fee
---
No photoshoot fee
---
No price analysis fee
---
No advertising fee
---
No eviction guarantee
---
No move-in/out fee
---
No lease renewal fee
---
Want to learn more about our services?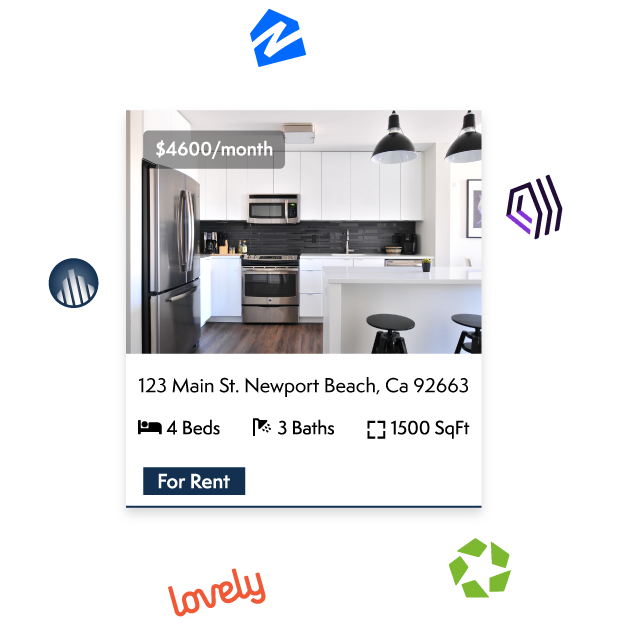 Are you getting the most out of your listing?
Finding exceptional tenants starts from making sure your property is being promoted properly with an attractive appearance. Our expert photography and videography will be sure to showcase all of your properties highlights to create a listing of the highest quality.
Your listing will then be syndicated through all major rental sites including ours in order to maximize exposure. We consistently manage and review all our listings to stay ahead of market trends and provide you with current, detailed analysis. 
Optimize your property's cashflow
Your property is a valuable asset that needs to be managed, protected and maintained. Whether your property is a single family home, multi-family home, condominium, commercial, etc. we are equipped to handle and manage it all. 
Our comprehensive portfolio of property management services and skilled team of managers ensures we can manage all of your property's needs from advertising and leasing to maintenance and renovations.
Los Angeles holds the title of most populous county in California with a population hovering just over 10 million. Its population is larger than that of 41 US states! The economy within Los Angeles county is the third largest metropolitan economy system in the world, bringing in more than $700 billion. With 88 cities, Los Angeles county is home to more than ¼ of California residents. Los Angeles county is one of the original counties in California, and it has only grown over time. As the population continued to multiply, sections of the county were split off to become what is now San Bernardino County and Kern County.
Even though Los Angeles county is large and quite literally full of millions of people, you are sure to find pockets of peace within the county line. Cities like Ojai, Wrightwood, Los Olivos, and Avalon provide small-town charm in the hustle and bustle of Los Angeles County. While the opportunity for fun is around every corner here, there are hundreds of career opportunities in the area! Real estate, filmmaking, video game design, animation, and fashion industries thrive within Los Angeles county, but there are more companies than we could name that find their headquarters in this slice of California. Homes in the area range from single-family homes to large luxurious mansions proving to give residents a wide range of housing options. Los Angeles County can feel like it is all work and no play sometimes, but some people even find themselves raising a family here!
Our Service Areas
In need of local property management? We're ready for you!
Bel Air • Beverly Hills • Brentwood • Carson • Cerritos • Culver City • El Segundo • Gardena • Hawthorne • Hermosa Beach • Hollywood • La Mirada • Lakewood • Lawndale • Lomita • Long Beach • Los Angeles • Malibu • Manhattan Beach • Marvista • Pacific Palisades • Playa Vista • Redondo Beach • Santa Monica • Signal Hill • Torrance • Venice • Westwood